| | |
| --- | --- |
| | Allion SEED Daycare Philosophy |
Social and Educational Extended Day Program (SEED)
Our SEED (Social and Educational Extended Day) program strives to provide a nurturing environment where children learn to grow and develop their social and emotional abilities. The various activities during the year also help develop their fine and gross motor skills. The SEED educators help foster proper social skills such as responsibility, cooperation, respect, problem solving and a positive self-image.
The students experience many scheduled activities such as arts/crafts, cooking, science, a variety of games, gym, study hall, and free play in the SEED daycare, school yard or park area. Special programs are also offered during the school year.
Parents also have the opportunity to join the SEED Daycare Committee which is scheduled a few times throughout the school year. Detailed information is below and a signed response to commit may be forwarded to the daycare office. We encourage students, parents and educators to work as a team as to set goals which benefit our children's future.
Forms & Notices
| | | |
| --- | --- | --- |
| | | Rules & Regulations 2023-2024 |
| | | Online Bank Payment Information |
| | | Request and Authorization for the Distribution of Medication at School |
| | | |
---
Lunch Program
All children are welcome to participate in the Lunch Program. There is a lunch fee levied for all children who stay (except those enrolled full-time in the SEED program) to pay the salaries of lunch supervisors (one per group). The lunch fees for children in the SEED program are included in the SEED program fees. Parents will be receiving information regarding the payment schedule early in the school year.
Income tax receipts for lunch fees will be issued in February for those who have completed and returned the necessary form with their payment. For more information please contact the Daycare office.
Appropriate behaviour is expected of all children in the Lunch Program. All children are expected to respect the School Code of Conduct during the lunch period. Infractions will be addressed in the manner described in the Code of Conduct.
Lunch Program only:
Hours: 11:20 am - 12:10 pm
No Registration Fee


Payment schedule will be forwarded the first week of school in September.

SEED Daycare Program:
Hours of Operation

Regular School Day

Holidays

CLOSED

Morning
7:00-7:50
Lunch
11:20-12:10
Afternoon

2:30-6:00
No Registration Fee


The ministry's daycare plan entitles parents to receive up to 5 hours of daycare service on regular school days. The registration form includes a contract of hours for parents to choose. Services are morning, lunch & after school. At least 2 of these, including lunch, must be used to be eligible for the daycare plan

WE MUST RECEIVE ALL DAYCARE REGISTRATIONS BY SEPTEMBER 30th TO BE REGISTERED WITH THE MINISTRY! CHILDREN MUST BE PRESENT AT LEAST 3 DAYS A WEEK.
PAYMENTS
are to be made by internet, Interac, post-dated cheques (cash only if necessary).
LATE FEE
charge after 6:00 pm is $1.00 per minute! We encourage you to have someone available to pick up your child in case of emergency. The person's name must be written on the form for pick up.
PED DAY
services are available. The daily fee for the SEED daycare will cover 10 hours of service. Children must be registered one or two weeks in advance. The activity fee is additional.
**Detailed information and rules will be provided in your child's agenda. Daycare parents will receive additional information which will be forwarded in September.
For more information please contact Linda Aubertin, Social and Educational Extended Day & Lunch Programs Technician, at
514 595 2138
.
SEED Daycare Parents' User Committee:
This organization plays an advisory role and is chaired by the SEED technician. It provides a forum for consultations and feedback. It is a liaison for all parents who use the SEED daycare service. Its main focus is on the quality of the SEED daycare services.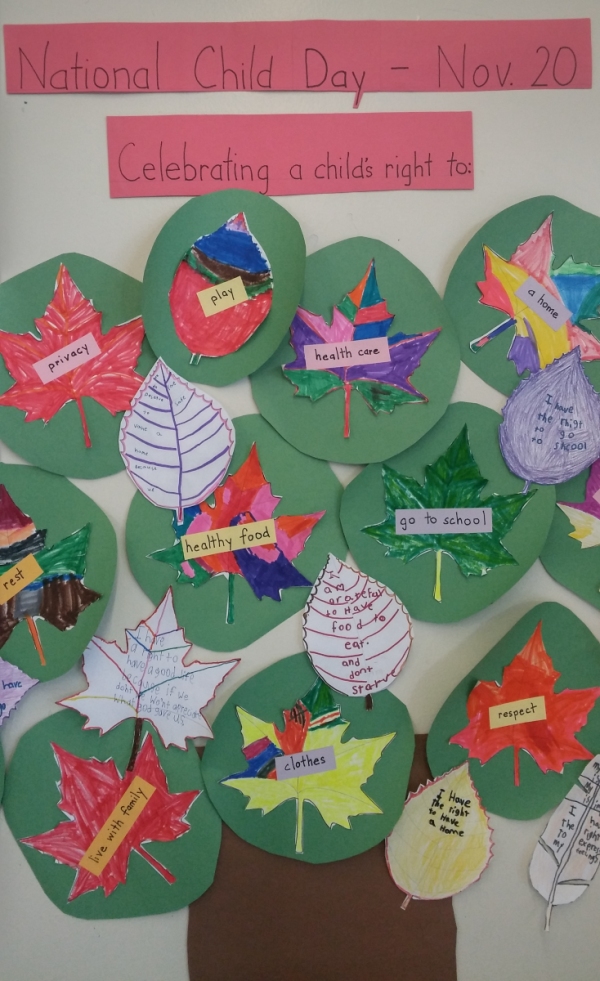 Tree of Children's Rights across Canada